I visited Corfu in Greece the first time in October, 1980. I went back again in 1990. It's a nice island in many ways, but a bit too touristic. Corfu is the northernmost island of Greece, situated between Italy and Albania. Albania is close when you are in the north of Corfu, like Kassiopi. On a clear day you see over to Albania. The closeness also means lots of soldiers in that part to stop refugees from Albania that come over the sea. That Italy is close is also easy to see on the island, especially in the building style, and some foods. It is for instance very common with pasta dishes here, which is not so common on other greek islands.
The island is very green and have the largest olive trees I've seen anywhere. A mountain follows the length of the island. In the north you have some nice beaches, and on the west-coast and in the south, which has been developed for tourism much later than the rest of the island. You can reach any part of Corfu by regular busses.
The town of Corfu (named as the island, but also known as Kerkyra) is where the Italian and other influences are the greatest if you look at the buildings and how the whole town is built. The town is old and also has a Venetian fortress, which is not that well-kept, but still worth visiting.
CLICK HERE to see my pictures from Corfu.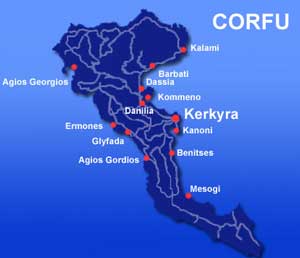 [On the map Kalami is the same as Kassiopi.
Sidari in the north is not on it. Kerkyra is Corfu Town. Agios Georgios is just north of Paleokastritsa].
Some links about Corfu:
http://www.corfu-greece.biz/corfu.htm
Corfu History
About Corfu Town
Corfu Greece Pictures
corfu.2link.be