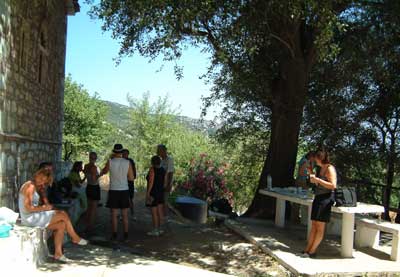 Lunchbreak at Taxiarchis.
By the end of this sweaty and hot and rather laborious walkingtrip, we were served lunch in the form of a picknick in the shade of the trees at Taxiarchis, a church where the best mineralwater on the island comes out from a tap in the wall. For lunch we got fresh bread, tzatziki, feta cheese, tomatoes, cucumbers, watermelon and apples. For drink, the mineralwater from the tap at the church.
People in the neighborhood came there to fill up their watersupplies. All free, instead of buying mineralwater on the bottle.
Then we were fit to continue for the last part of this walkingtrip, down the mountain.